SHIMANO TEKOTA DRAG INSTALLATION PART 2

NOW IT'S TME FOR A THOROUGH CLEANING OF THE COMPLETE DRIVE / DRAG SYSTEM THAT YOU SEE IN STEPS #15A THRU E, INCLUDING THE FRAME SET PLATE PICTURED IN STEP #14A. OUR WEAPON OF CHOICE FOR THIS TASK IS VM&P NAPTHA WHICH IS BASICALLY LIGHTER FLUID. IT'S REALLY CHEAP, READILY AVAILABLE AT ANY HARDWARE STORE, WON'T STINK THE PLACE OUT, EVAPORATES QUICKLY & WILL NOT HARM PLASTIC OR GRAPHITE COMPONANTS LIKE SOME AUTOMOTIVE CARB & BRAKE CLEANING PRODUCTS ARE KNOWN FOR.

AN OLD PLASTIC TUPPERWARE BOWL OR EVEN A CHEAP DOLLAR STORE SELF SEALING CONTAINER ALONG WITH A TOOTH BRUSH ARE GREAT FOR CLEANING YOUR PARTS. IF YOU DON'T HAVE A DREMEL, DON'T SWEAT THAT EITHER! #000 OR #0000 STEEL WOOL WILL MAKE SHORT WORK OF CLEANING ALL THE PARTS PICTURED.

ONCE ALL YOUR PARTS ARE THOROUGHLY CLEANED YOUR NOW READY FOR REASSEMBLY OF YOUR REEL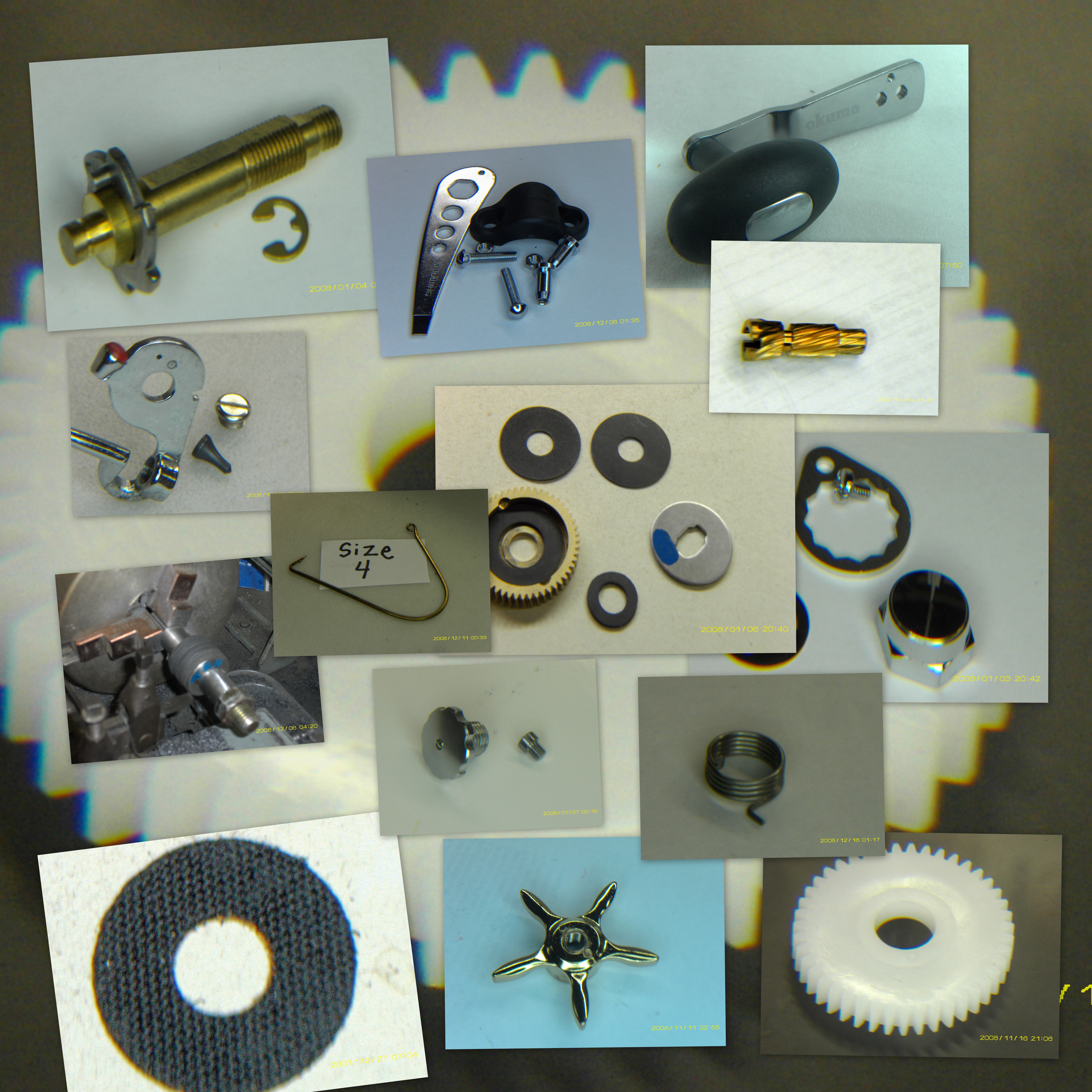 ONCE YOUR ALL DONE GIVING YOUR PARTS A THOROUGH CLEANING YOUR NOW READY TO REASSEMBLE YOUR REEL.

OUR CUSTOMER REQUESTS THAT ALL HIS DRAG UPGRADES ARE  TO BE DRAGMASTERS TOURNAMENT BRAND DRAG WASHERS (STEP #15G) & THAT ALL DRAGS ARE TO BE INSTALLED AS A DRY SYSTEM (VERY COMMON IN THE GREAT LAKES REGION) VERSUS  HAVING THEM GREASED, THUS AVOIDING PREMATURE STICKY DRAG SITUATION.

SO, NEEDLESS TO SAY, AS SHOWN IN STEP #15F, THE DRIVE GEAR & DRAG PLATES NEED TO BE NOTHING LESS THAN SQUEEKY CLEAN!

APPLY GREASE OF YOUR CHOICE TO THE FRAME SET PLATE AREA AS SHOWN & DON'T FORGET THOSE 2 LITTLE WASHERS!

REASSEMBLY OF THE ANTI REVERSE SYSTEM IS PRETTY MUCH THE REVERSE OF HOW IT WAS DISASSEMBLED AS SHOWN IN STEP #13 BUT YOUR A/R PAWLS MAY NEED A LITTLE FINE TUNING PRIOR TO INSTALLATION. THIS IS WHERE YOUR NEEDLE NOSE PLIERS COME IN HANDY AS SHOWN IN STEP #17B

JUST A LITTLE TWEAK ON EACH TAB...

...AND SHOULD LOOK LIKE THIS.

ADD A LITTLE GREASE TO THE A/R PAWL PIVOT POINTS, SLIDE ON THE A/R ASSEMBLY...

...REPLACE THE A/R PAWL KEEPERS SCREWING THEM DOWN SNUGLY. REINSTALL YOKE PLATE & ADD GREASE TO ALL SLIDE & PIVOT POINTS AS SHOWN

NOW REINSTALL YOKE & PINION ASSY.
IMPORTANT!!!
NOTICE THE FLAT SIDE OF THE YOKE IS FACING UP & BEVELED SIDE TOWARDS THE YOKE SLIDER.

INSTALL SMALL U/G WASHER.

INSTALL FIRST DRAG WASHER. THIS MAY HAVE A SLIGHTLY LARGER DIAMETER HOLE ON SOME REELS.
INSTALL THE FIRST KEYED DRAG PLATE.

NOW, INSTALL SECOND DRAG WASHER.
INSTALL EARED DRAG PLATE.

INSTALL KEYED DRAG PLATE FOLLOWED BY THE ROLLER CLUTCH INNER TUBE WITH THE TABS POINTING DOWN & INTERLOCKING INTO TOP KEYED DRAG PLATE.
INSTALL LAST DRAG WASHER.
YOU ARE NOW READY TO ADVANCE TO PART 3!
Copyright 2010 Tuna's Reel Troubles:  Fishing Reel Repair.  All Rights Reserved.